Millennial Shoppers are Reshaping Retail
Retailers, have you developed a digital transformation strategy designed to serve this key demographic?
As the largest segment of shoppers, Millennials are the best target opportunity for retailers and also their biggest challenge. One reason they are so challenging is that of the three major selling channels (stores, online and mobile) mobile delivers the lowest marks for customer satisfaction.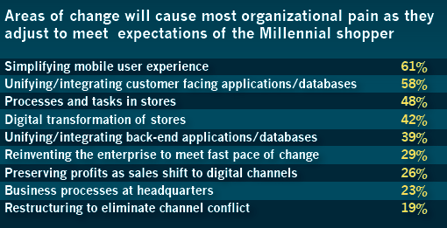 This means that overall, retailers are currently disappointing the heck out of their biggest block of shoppers.
.
The results of the study show that 91% of retailers agree that they should fundamentally change how they do business to better serve Millennial shoppers:
76% say by investing in mobile commerce services and functions
62% agree that they need to unify all sales channels for consistent and seamless shopping experience
81% agree that the channel that needs to change most is mobile
Get immediate access to this custom research study.